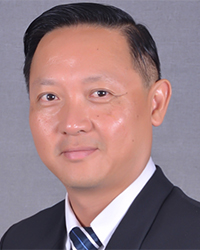 Research Associate, MIT Center for Transportation and Logistics
Director, Master of Science in Supply Chain Management (Part-Time), MISI
Research Areas:
Reverse Logistics
3PL Development
E-commerce Operations and System Dynamics Modeling
Selected Publications:
Tan and Sumit, (2015) "Order fulfillment process for a large online retail in Singapore", Int. J. Automation and Logistics, Vol. 1, No. 4, pp. 400–418.
Tan, Zhao Yifei, Dali Zhang and Olli-Pekka Hilmola , (2014),"State of third party logistics providers in China", Industrial Management & Data Systems, Vol. 114 No. 9 pp. 1322 – 1343.
Tan and Kumar, (2006) "A Decision-Making Model for Reverse Logistics in the Computer Industry", International Journal of Logistics Management, Vol. 17, No. 3, pp. 331-354.
Teaching:
System Dynamics
Supply Chain Process Reengineering
Warehouse Designs