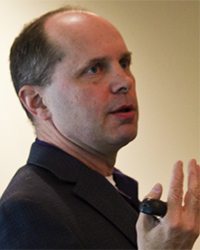 Silver Family Research Fellow

Executive Director, MIT Center for Transportation & Logistics (CTL)

Director, MITx MicroMaster's Program in Supply Chain Management 
Research Areas:
Freight Transportation
Scenario Planning
OnLine Learning
Logistics
Selected Publications:
Caplice C. and Phadnis, S. (2013) Strategic Issues Facing Transportation, Volume 1: Scenario Planning for Freight Transportation Infrastructure Investment, Washington, D.C. : Transportation Research Board, National Cooperative Highway Research Program, Report 750.
Caplice, C. (2007), "Electronic Markets for Truckload Transportation," Production and Operations Management, Vol. 16, No. 4, pp.423-436.
Caplice, C. and Y. Sheffi (2006), "Combinatorial Auctions for Truckload Transportation," Chapter 21 in Combinatorial Auctions, ed. P. Cramton, Y. Shoham, and R. Steinberg, MIT Press.
Caplice, C. and Y. Sheffi (2003), "Optimization Based Procurement for Transportation Services," The Journal of Business Logistics, Vol. 24, No. 2, pp.109-128.
Teaching:
Logistics Systems
Freight Transportation Systems
Supply Chain MIcroMaster's Credential courses (Analytics, Fundamentals, Design, Dynamics, and Technology).