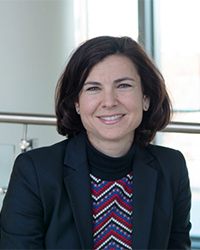 Research Associate, MIT Center for Transportation and Logistics
Research Areas:
Urban Logistics
Last-mile Deliveries
Omni-channel Distribution Models
Reverse Logistics
Closed-loop Supply Chains
Sustainable Supply Chains
Selected Publications:
Ponce-Cueto, E., González-Manteca, J.A. (2016). Calidad Pascual: Creating value through collaboration. Reaching 50 Million Nanostores. Editors: Blanco, E. and Fransoo, J.
Ponce-Cueto, E., González-Manteca, J.A. (2015). Impact of emerging environmental regulations in the reverse logistics system for portable batteries in Spain, Environmental issues in supply chain management. New trends and applications. Editors: Golinska, P. and Andres, C. Springer-Verlag
Han, H., Ponce-Cueto, E. (2015) "Waste Collection Vehicle Routing Problem: Literature Review". Journal PROMET – Traffic&Transportation. Vol. 27, Nº 4, pp. 345-358.
Ponce-Cueto, E., Molenat Muelas, M. (2015) "Integrating forward and reverse logistics network for commercial goods management. An integer linear programming model proposal". International Journal of Production Management and Engineering. Vol. 3, Nº 1, pp. 25-32. ISSN: 2340-5317.
Uruburu, A., Ponce-Cueto, E., Cobo-Benita, JR, Ordieres-Meré. (2013) "The new challenges of end-of-life tyres management systems: A Spanish case study", J. Waste Management, Vol. 33, Nº. 3, 679-688, 2014. Impact Factor: 3.157, Q1 (JCR, 2013).
Carrasco-Gallego, R., Ponce-Cueto, E., Dekker, R. (2012) "Closed-loop supply chains of reusable articles: a typology grounded on case studies", International Journal of Production Research, Vol. 50, Nº. 19, 5582-5596.
Teaching: 
Green Supply Chain Management
Sustainable Supply Chains
Supply Chain Fundamentals and Design