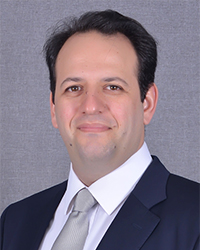 Assistant Professor, Malaysia Institute for Supply Chain Innovation Director, Executive Education
Research Areas:
Maritime Logistics
Network Design
Environmental Logistics
Supply Chain Risk
Selected Publications:
Lagoudis, I.N., Lalwani, C.S. and Naim, M.M. (2006), "Ranking of Factors Contributing to Higher Performance in the Ocean Transportation Industry: A Multi Attribute Utility Theory Approach", Maritime Policy and Management, Vol. 33, No. 4, pp.345-369.
Lagoudis, I.N., Naim, M.M. and Potter, A.T. (2010), "Strategic flexibility choices in the ocean transportation industry", International Journal of Shipping and Transport Logistics, Vol. 2, No 2, pp. 187-205.
Mennis, E., Lagoudis, I.N., Nikitakos, N. and Platis, A.N. (2008), "Improving Port Container Terminal Efficiency with the Use of Markov Theory", Maritime Economics and Logistics, Vol.
Teaching: 
Transportation Management
Maritime Logistics
Global Supply Chain Management
Analytical Methods