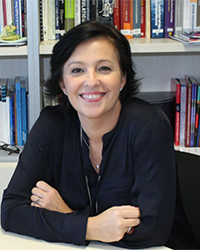 Professor of SCM at the MIT-Zaragoza Program

Research Affiliate at the MIT Center for Transportation & Logistics
Research Areas:
Supply Chain Collaboration
Inter-organizational Learning
Supply Chain Risks and Resiliency
Selected Publications:
Chen, W., Kucukyazici, B, Verter, V. and Saenz, M.J. Supply Chain Design for Unlocking the Value of Remanufacturing Under Uncertainty. European Journal of Operational Research, 2015, 247.
Sáenz, M.J. and Revilla E., Creating More Resilient Supply Chains. MIT Sloan Management Review, Summer issue, 2014.
Sáenz, M.J., Revilla, E. and Knoppen, D.. Absorptive capacity in buyer-supplier relationships: empirical evidence of its mediating role. Journal of Supply Chain Management, 2014, 50(2).
Teaching: 
Supply Chain Collaboration
Project Management
Resilient Supply Chains