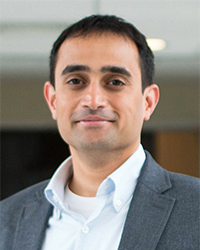 Associate Professor, Director of Research

Director, Center for e-Commerce And Retail Transformation (CART)

Malaysia Institute of Supply Chain Innovation
Research Areas:
Value Chain and Operations Strategy
Supply Chain Adaptation
Coevolution of Business Models and Supply Chains
Scenario Planning
Strategy Processes
Selected Publications:
Perez-Franco, Phadnis, Caplice, & Sheffi. (2016) "Rethinking supply chain strategy as a conceptual system," International Journal of Production Economics, 182, 384-396.
Phadnis, Caplice, & Sheffi. (2016). "How scenario planning influences strategic decisions," MIT Sloan Management Review, 57(4), 21-24.
Phadnis, Caplice, Sheffi, & Singh. (2015). "Effects of scenario planning on field experts' judgment of long-range investment decisions", Strategic Management Journal, 36(9), 1401-1411.
Phadnis, Caplice, Singh, & Sheffi. (2014). "Axiomatic foundation and a structured process for developing firm-specific Intuitive Logics scenarios", Technological Forecasting & Social Change, 88, 122-139.
Phadnis & Caplice. (2013 Jul/Aug). "Global virtual teams: How are they performing?", Supply Chain Management Review.
Caplice & Phadnis. (2013). "Strategic issues facing transportation: Scenario planning for freight transportation infrastructure investment (NCHRP Report 750)", Washington, DC: Transportation Research Board.
Teaching: 
Operations and Supply Chain Strategy
Supply Chain Planning
Scenario Planning