Location: MIT Center for Transportation and Logistics, Cambridge, MA, USA
Join fellow business professionals from across the globe to experience a unique combination of master's level coursework and research, professional development, and industry interaction.
MIT Supply Chain Management master's students embark on a challenging curriculum from a world-class institution, taught by the supply chain field's leading faculty and researchers, and immerse themselves in the vast and enriching learning environment that MIT has to offer.
Why attend this program?
TWO DEGREE OPTIONS. Complete a research capstone project to earn a Master of Applied Science in Supply Chain Management, or a thesis project to earn a Master of Engineering in Supply Chain Management.
SMALL, DIVERSE CLASSES. Never feel lost in a sea of faces -- the MIT SCM classes are small and intimate, and comprised of students from all over the world and from a range of cultural and professional backgrounds.
DEDICATED PLACEMENT SERVICES. The MIT SCM program features proactive career services and extensive leadership development personally dedicated to the SCM program with 95-100% job placement rate within three month's after graduation.
REAL-WORLD APPLICATION. Students have the chance to engage in cutting-edge research through company-sponsored thesis projects, finding solutions to real-world challenges facing today's biggest companies and their global supply chains.
TRAVEL. Every year, the SCM class will have the opportunity to travel to see logistics in action. Past trips have included Spain, Panama, San Francisco/Silicon Valley, and Seattle/Portland.
BOSTON/CAMBRIDGE. Live in and experience the beauty, history, and culture of Massachusetts' sister cities, Boston and Cambridge–home to the world's best colleges and universities. Enjoy the convenience of big-city living with a small town feel, including convenient public transportation; a vibrant food, sports, education, and music culture; historic sites; and picturesque autumns. Boston/Cambridge is a major Eastern U.S. hub and is ideally situated close to beaches and mountains, just a 4-hour drive to New York City.
SCHOLARSHIPS. CTL and MIT offer a range of merit-based fellowships, along with scholarships for women, military veterans, and blended master's students.
VAST ALUMNI NETWORK. When you graduate, you'll join over a thousand MIT SCM alumni working and living all over the world who will form your network of communication and support for the rest of your life.
Program Details at a Glance:
Formats:
10-month residential program (SCMr) | 5-month blended program (SCMb)

Language of Instruction: English

Degree/Certificate:
The SCMr and SCMb programs lead to the Master of Applied Science or the Master of Engineering in Supply Chain Management awarded by the Massachusetts Institute of Technology, and the Graduate Certificate in Logistics and Supply Chain Management, awarded by MIT Global SCALE Network.

Credit Requirements:
90 MIT credits

Program Costs:
10-Month residential program:
Tuition (2019-20 academic year): $74,968 plus student life fee, medical insurance, and living expenses. Currently a budget of $2,935 per month for living expenses is recommended for single students.
5-month Blended program:
Tuition (2019-20 academic year): $44,980 plus student life fee, medical insurance, and living expenses. Currently a budget of $2,935 per month for living expenses is recommended for single students.

Financial Aid:
MIT CTL offers a limited number of fellowships and scholarships. Students are also eligible for grants and fellowships from MIT. Because of the intensive course load, students are not eligible for research or teaching assistantships. Learn more...

Career Resources and Alumni Relations:
The SCM program has a full time staff person dedicated to bringing in companies for interviews and helping the students find excellent jobs. Students can also access MIT Career Services and the CareerBridge. Upon graduation students join an elite group of MIT SCM and SCALE alumni and enjoy:
Membership in the MIT Alumni Association
Full participation in all MIT CTL alumni activities
Admissions Info:
 
Next Steps: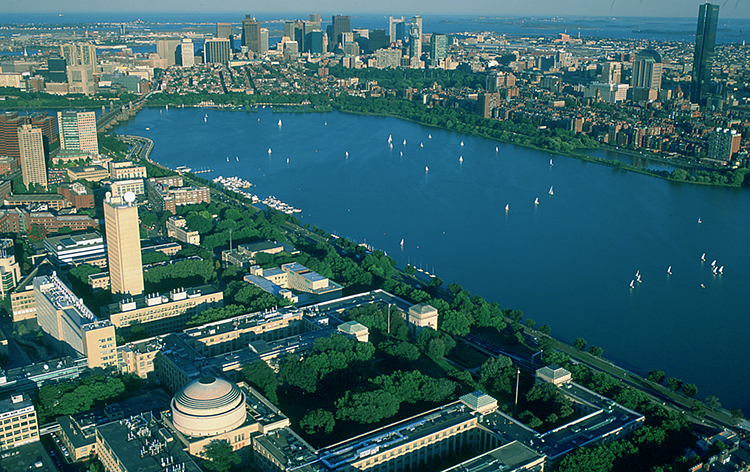 The MIT campus (foreground) with Boston across the Charles River, and Boston Harbor beyond.