MIT - Malaysia Supply Chain Management Master's
Shah Alam, Malaysia
By location and design, the Master of Science Degree in Supply Chain Management from the Malaysia Institute for Supply Chain Innovation offers a unique research and educational environment for students. A strong partnership between academia, industry, and government has been fostered to create and disseminate innovative supply chain knowledge.
DYNAMIC LOCATION. Asia and the ASEAN region is on the verge of reaching its economic potential with supply chain management shaping up to take center stage. Most companies in the region, be they global, multinational, regional or local, are in the midst of re-engineering their procurement and supply chain functions. For example, Schlumberger has employed MISI alumni at its global procurement services hub in Kuala Lumpur since opening the facility.
DIVERSE STUDENT BODY. Our class sizes are small, and diverse, representing a wide range of Asian countries, with over 50% females.
INTERNATIONAL EXPOSURE. Our students get maximum exposure to companies in the Asia region and often go on to work in Asia after graduation.
UNIQUE CHALLENGES. Where else can you find supply chains that have to contend with coups, piracy, tsunamis, and elephant transportation while also having the most sophisticated and largest container ports in the world?
KUALA LUMPUR. Kuala Lumpur (or "KL") is one of the world's greatest megacities and offers up numerous opportunities and challenges for supply chain operations as the majority of the world's growing population will move towards these great global cities by 2030. KL is an extremely vibrant city with a rich culture, low cost of living, and wonderfully warm weather all year long.
TRAVEL. KL's prime location means that travel to other Asian countries in the region is fast, quick, and very cheap with some of the world's most beautiful beaches (Langkawai, Phuket, Ko Samui, Bali), historic sites (Angkor Wat in Cambodia, Ayutthaya in Thailand, Vietnam), and cities (Bangkok, Singapore, Yangon, HCM City, Jakarta, Shanghai) just a short trip away.
HI-TECH INDUSTRIES. Malaysia is the sourcing choice for many hi-tech supply chains including Dell, Intel, Seagate, and more. Our students have opportunities to visit manufacturers in Malaysia to gain an understanding offshoring approaches from the supplier side.
Program Details at a Glance:
Formats:
10-month residential program (MSCM) | 8-month accelerated program (MSCMx)

Language of Instruction: English

Degree/Certificate:
The MSCM and MSCMx programs lead to the Master of Science in Supply Chain Management awarded by the Malaysia Institute for Supply Chain Innovation, and the Graduate Certificate in Logistics and Supply Chain Management, awarded by MIT Global SCALE Network.

Credit Requirements:
48 MISI credits

Program Costs:
10-Month residential program:
Tuition (2018-19 academic year): RM 97,500 ($23,500) plus medical insurance, living expenses, and student visa. Currently a budget of RM 2,500-5,000 ($600-$1,200) per month for living expenses is recommended for single students.
Accelerated program:
Tuition cost: 66% of 10-month program tuition. 

Financial Aid:
MISI offers full and partial scholarships. Bank loans may be available to all applicants who have received a written confirmation of acceptance to the program. This loan is applicable only for tuition minus the RM 5,000 ($1,240) non-refundable deposit.
Career Resources and Alumni Relations:
MISI has a full time staff person dedicated to bringing in companies for interviews and helping the students find excellent jobs. Upon graduation students join an elite group of SCALE alumni and enjoy:
Associate member status in the MIT Alumni Association 
Full participation in all MIT CTL alumni activities
Admissions Info:
 
Next Steps: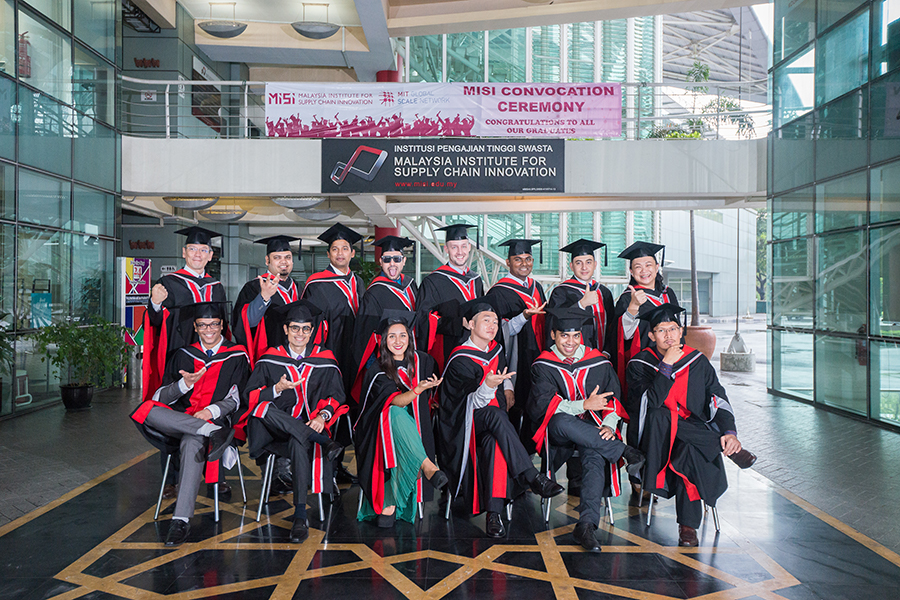 MISI MIT-SCALE Class of 2018.