As response to COVID-19 pandemic situation continues to evolve globally, our MIT SCALE Centers are continuing to prioritize the health and safety of the students, researchers, and others in our communities.
We strongly encourage you to check the Centers' web sites for timely updates. See links on the sidebar at right.
 
September 2021:
ZLC, NISCI, and MIT CTL have resumed face-to-face on-campus instruction at full capacity. LCL is continuing to deliver hybrid instruction to the 17 students in its class of 2022 master's program cohort
Winter, 2020-21:
Most Centers are proceeding with hybrid on-campus + online instruction for the Class of 2021 as the policies and protocols of their parent institutions dictate. 
July, 2020:
Centers are wrapping up their application reviews to finalize their class cohorts for the 2020-21 academic year, and are excited to welcome the Class of 2021 to programs beginning in August and September. As campuses plan for safe re-openings, most SCALE master's programs will be delivered on a hybrid model, combining on-campus, in-class instruction and online study options.
March 25, 2020:
All Centers are monitoring the global situation carefully, and with broad advisories in place against travel in general, and lockdowns in effect in some countries/regions, most classes taught across the SCALE network have moved online.
MIT SCALE faculty and instructors are well prepared and experienced in delivering courses online, so while this situation is challenging, we are fully confident in our ability to provide academic continuity and a rigorous level of instruction to our supply chain management master's students at all SCALE centers. 
NISCI: Students have been taking classes and doing all group work remotely since February 7. Center staff and faculty worked remotely from Feb 4 to March 1, and were able to return to their offices on March 2, with sufficient precautions in place against spread of the virus.
MIT CTL: In an effort to "de-densify" and help mitigate spread of the virus on campus/in the local area, MIT has extended spring break by one week, and will move all classes and group work online beginning March 30. Research and administrative work is being done remotely. See complete information on MIT's COVID-19 response here.
ZLC: All face-to-face educational, research, and administrative activity is suspended as of 14 March; classes are being delivered online, and research and administrative work is being done remotely. See complete information on the University of Zaragoza's COVID-19 response here.
LCL: The University of Luxembourg and LCL have moved all courses online as of 16 March, at least until the end of the month. Academic, research, and administrative teams are working remotely. See complete information on the University of Luxembourg's COVID-19 response here.
MISI: Malaysia (and MISI) has gone into "shutdown" from March 18 until April 14 and will deliver classes online beginning March 30.
We will continue to provide updates here as SCALE centers adapt to this rapidly evolving situation.
For up-to-date info, see the Centers' sites:
SCALE SCM Students Contribute to Solutions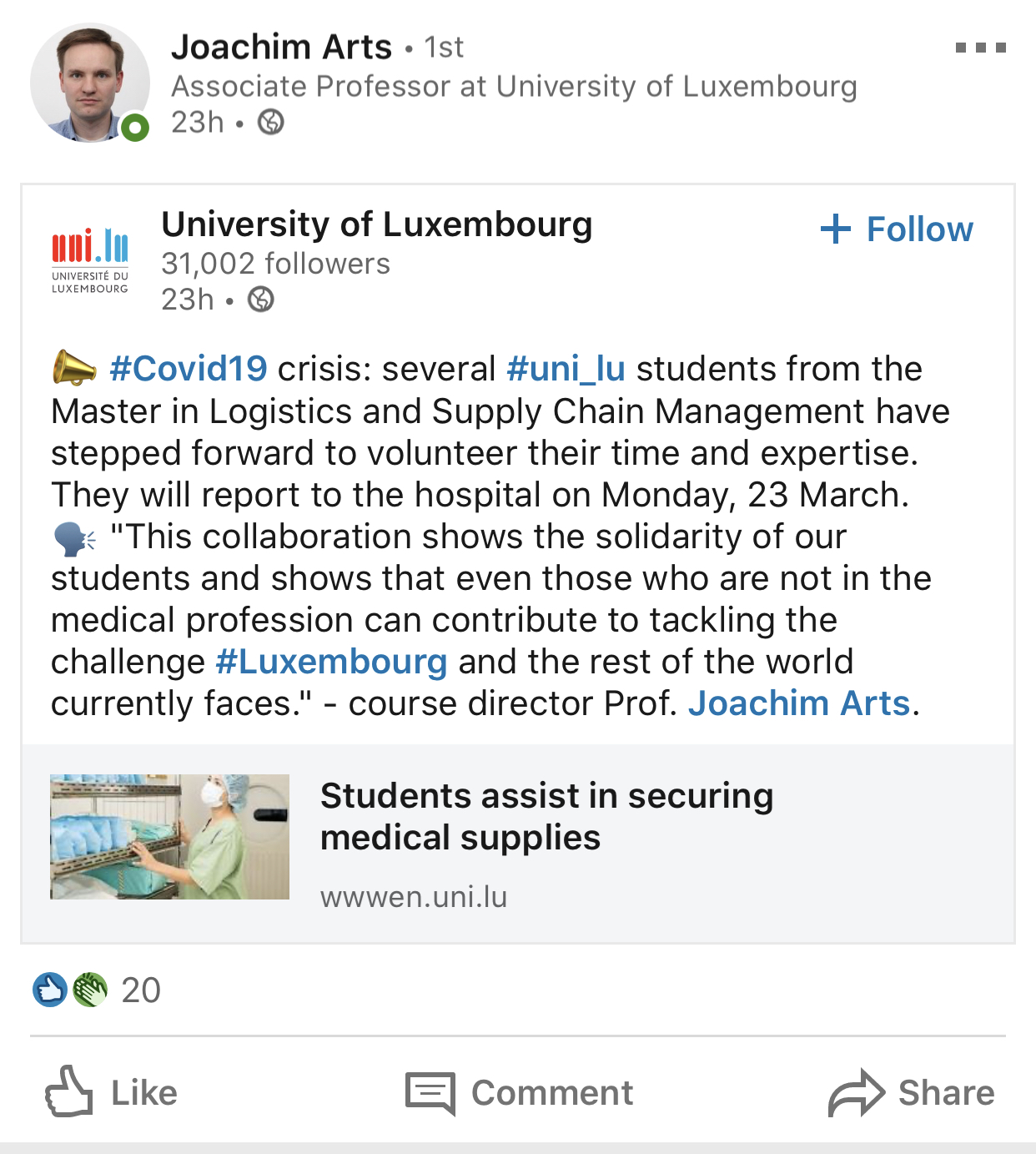 With campus life curtailed, Class of 2020 students at our SCALE centers took the initiative to help solve global problems caused or exacerbated by the COVID-19 pandemic.